The Adjei Bimonthly(ish)
May 2003
New Girl's Home 'El Alfarero'
('El Alfarero' means 'The Potter')
The land is paid off ($18,000)! Even more exciting is that as soon as the plans are finalised we can start the building as we already have $15,000 towards the $25,000 that we will eventually need. With the amount we already have we should be able to complete the girl's dormitories and bathrooms and be able to open the home. We have seen a truly astonishing amount of money come in, we are utterly astounded by your generosity and God's generosity. Thank you so much to all of you who have given and prayed for this venture.
Sharon has been fairly sure for a long time and more recently VERY sure that she should go and live at El Alfarero* when it has been built and head up the every day running of the home. She has always been a great worker and is going into this with a lot of understanding of what it will entail, so we are very pleased with her vision for this job.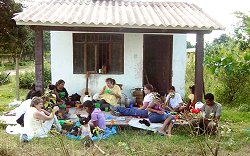 Eating lunch outside the small shop on the girls land
Last week the street girls who come to the project went for a day trip to the land. They spent the day collecting fruit and yuca (root veg) and helping clear the land. Several of them (including Gladys with baby Jasmine) said they would like to go and live there when the home opens. Please pray that all the building happens very quickly and smoothly so that we can open as soon as possible. The building is set to start this month!!!
---

We've had a good response from those who have seen the PowerPoint presentation on the girls work. If you would like a copy on CDROM please email us with your address and we'll get one sent out to you.
If you would like to give any money towards the land and the building of the new home then you can do so by paying into an account that we have set up for this purpose. Please visit our 'Make a Donation' page for details.

---
Ruth and Corina
Sadly Ruth has contracted a fungal meningitis and has been very ill for the last couple of weeks. She has had a brain scan to see what treatment she may respond to. It would seem though that the only real option for a cure, would be a miracle. Please pray for her, it would be wonderful to see her healed. It has been a very difficult few weeks, facing the possibility of her death. She is very peaceful, but has seen others die in this way and knows it is very painful. She has a very bad headache all the time. For 3 weeks she has been unable to look after Corina, so Sharon from our team has had her to stay. She has been delightful apparently. We have seen her from time to time and Jasmine still loves her very much, they are little monkeys together! If Corina cannot return to Ruth though, until now Sharon has been unable to find a secure alternative. It would be very sad to see a child we know so well going into a children's home (if indeed we could find a home that would accept her), so once again, please pray.
Church
For about 2 months now we have been holding Sunday meetings in our house and providing a lunch afterwards. They have been good times, but not very many people come. There is now a possibility of us renting a different property in town to use as a medical post and meeting place for the street kids (it is bigger than the property we currently rent). We would also be able to use this on Sunday mornings. We are hoping this would mean that more people will attend as they will either not have to pay a bus fare, or it will be less than they have been paying all the way out to our house.
Some people who have come more regularly have started to open up and share more as the weeks go by. Ruth was able to share of a time that she felt God's presence and help when she was talking to one of the nurses in the clinic where she lives. Gaby has been able to give a short teaching that she prepared on goals. Others also share or are open to discussions.
Please pray that we will be able to rent the right property in town. Also for the actual meetings, that they will be times in which all of us will meet with God.
Rosa and Daniela
Sadly, a few months ago Rosa ran away from her home in Cochabamba, leaving Daniela behind once more. She still wanted to get Dani back, but was not allowed as this is the second time Rosa has left her and she still lacks a great deal of stability in her life. She has been to visit us on several occasions since leaving the home and David was able to help her write a letter to say that she would like an adoptive Christian family for Dani. The letter was beautiful, really expressing love for Dani, but also saying that she believed a stable family was better for her than what Rosa was able to give in her present situation. Please pray that a family will be found soon as Dani is in a children's home at the moment. Please also pray for Rosa. She has changed so much in the years we have known her, there is still so much more that she would like to change though. Also she misses Dani.
Big" Gaby
Gaby and Naty have now been living on the YWAM training base for the last 3 months. This week she finishes the lecture phase and will then be going on a 2 month outreach, travelling to Argentina for one month then returning to Bolivia for the final few weeks. This has been a great time for her. It has been very difficult in some ways facing once again many things from her past in times of inner healing or relevant teachings, but she has really made the most of everything and been very open with staff, both in times when she has been asked to share and when she has felt the need to. We continually thank God for her life, her friendship and her testimony. Please pray for her on the outreach as she is quite worried about how Naty will fit in. Its about a 3 day bus trip to Argentina which is a long journey for a nearly 4 year old. Also they may have to share a bedroom with several others and she doesn't want Naty to upset any of them.
Gaby's intention is to eventually work with the girls in the new home. She will have to make decisions in the next few weeks about this and whether now is the right time or not. So please pray that she will hear clearly from God.
Little Girls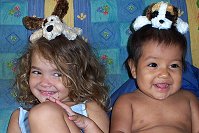 Our little girls are proving to be great sisters and are bringing us so much joy. Gaby has now been crawling and pulling herself up to standing for several weeks. She can also whistle (!?!) We haven't completed the adoption papers yet, but are hoping to do so in the next few days. Please pray that we can get this done quickly and smoothly as we are a bit in limbo at the moment. She will be 1 year old on the 20th June and it would be lovely if we could finish the adoption before then. We already feel, however that she is "properly" our daughter. In fact a while ago I had a very confusing dream in which I couldn't remember being pregnant with her and I couldn't work out how I could go through a whole pregnancy and not remember it afterwards. David very kindly pointed out in the morning there was a very good reason for not remembering it!
Jasmine and Gaby have had visits from both sets of grandparents in the last 2 months, which of course they loved. It was great that the grandparents could meet their new granddaughter so soon after we got her (they approved of her!!!). Now the girls are waiting for a visit from their Aunty Catherine in August.
Thank you for all your support over the last few months and we'll write to you again soon!
With our love,
Sarah, David, Jasmine and Gabriela xxxx