The Adjei Bimonthly(ish)
March 2003
Surprise New Daughter!!!

The Gift of the Gab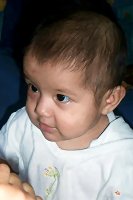 As of Wednesday the 5th of March we have a new member in our family. Gabriela is a gorgeous 9 month old baby, a bit small for her age, and doesn't have much hair (it was shaved off at the home in the heat of summer), but she is a very sweet little girl whom we are in the process of adopting. Gabriela is the name chosen for her by nurses at the maternity hospital, but it is a name thoroughly approved of by us. She was abandoned as a newborn and was about 2 months premature. No-one knows who her mother was or why she was abandoned, but it's possible that being premature the mother was afraid she would be ill and that she wouldn't be able to look after her.

Having been interviewed by a psychologist and a social worker, we had an audience with the judge on the afternoon of the 5th, and were awarded legal guardianship of Gaby as a first step in the adoption process. From the court we were able to go directly to the children's home to pick her up and bring her home. So, there is something that actually moves quicker in Bolivia than it does in England!!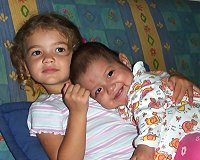 Gaby seems to be settling in very well with us. Jasmine has been absolutely brilliant with her and loves her very much. She can't wait for her to wake up in the mornings and gets very excited as soon as she stirs - no sign yet of the jealousy that everyone warned us about - Jasmine just loves to be with her and look after her.
Adopting a child is something that both Sarah and I have wanted to do since before we even knew each other (I have 2 adopted brothers and Sarah's got a great friend who is adopted) so we've been looking forward to being able to do this for a long time and we're both really happy that Gaby is to be our second daughter.
Girls' land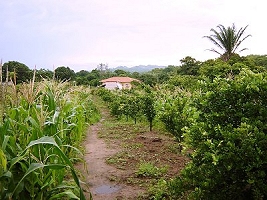 Over the last few months we've looked at a number of different properties for a new girls' home but haven't been able to find anything that we really feel would be suitable. After praying a lot about the situation we felt it would be right to go ahead and make an offer for a piece of land that is in a good location (about 16 miles outside the city) with a view to then being able to design and build a facility that meets all the necessary criteria for a rehab home for girls.

The new home will probably be called El Alfarero which means The Potter. To us this name talks of the work that God wants to do in the lives of everyone who will be involved with the new home, moulding and shaping both the workers and the girls more and more into what he wants us to be. (And by happy coincidence the Spanish starts with the Alfa of Casa Alfa!)

Our offer of $18,000 (approx. £12,000) for the 6000m² piece of land was accepted. So far we have paid $10,000 and the remaining balance of $8,000 has to be paid by the 14th of July 2003.

Obviously this is a longer route than we had planned to finally being able to open the home. Once we have paid off the land we will still need to raise the money for the building (estimated at around another $20,000 – approx. £13,000) before we are able to start using the property as a home.

The need amongst the street girls and their children is great and we are praying that God will provide the necessary finance so that we can go ahead and start building soon.
---
If you would like to give any money towards the land and the building of the new home then you can do so by paying into an account that we have set up for this purpose. Please visit our 'Make a Donation' page for details.

---
Cell Groups
The cell group that we started with the family of ex-street girl Liliana is going really well. In February we had a visit from four leaders of churches in the New Frontiers International family (NFI) whom we had asked to come with a view to planting a church here. We were really encouraged by their visit and are very excited about the future prospects for planting a church here which has a heart to welcome and disciple the street kids without burdening them with expectations that they can't fulfil.

On Sunday the 16th we will be having our first 'open' meeting with those from the cell group, girls from the Tuesday project and ex Casa Alfa girls and their families all invited. It's an exciting time for us having been praying about our church situation for so long. We don't know how things will work out but we are sure that this is on God's heart to show his grace to people who would perhaps otherwise never go near a church.
The Original Gaby
Gaby (the one who used to be in Casa Alfa... has a son called Naty... just graduated high school... I can tell this is going to be confusing now with her new namesake!) - anyway, Gaby has now come back to Santa Cruz to study on YWAM's Discipleship Training School (DTS). It's a 5 month intensive preparation aimed at people interested in missions. First, there's a 3 month theory phase, followed by a 2 month outreach where the students get to put into practice what they have learnt in practical mission context. Gaby, who is quite shy, was finding it difficult at first to integrate into the group of students, especially being the only mother, but now seems to be settling in well and enjoying the school. Naty is going to a nearby day-care centre during the week and he is also settling in well. Thank you to everyone involved in raising the finances that Gaby needs to do the school - for her it is the fulfilment of another goal that she has had for years. The other one was graduating from High School, which she achieved at the end of last year.