The Adjei Bimonthly(ish)
July 2005
Hello there. Bolivia has been going through some difficult times as you may have heard. Our president offered his resignation (for a second time) amidst massive demonstrations and road blocks that had left La Paz as a city under siege with food in short supply and fuel supplies almost completely exhausted. Now we have a new president who was given just 72 hours by some sectors to agree to nationalise the gas industry before the protests restarted. Things have settled down now and life goes on as normally as possible. For this newsletter I would let you see a snapshot of one week in June in the life of the Adjeis in Bolivia....
Sunday 5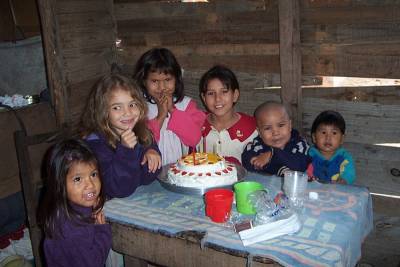 We say that church starts at 10 am. The reality is that it's a good morning when we start at about 10:35. As usual some people don't turn up till after 11 or even 12! This week Gaby & Jasmine aren't too well - they both have colds - and Sarah is on her own with the childrens' group. Quite a challenge when we can have up to 20 children -especially if Martha's family come (see some of her siblings in the photo). Things have been going well recently and we've been having 30-40 people along each Sunday.
Shirley from the girls' home is celebrating her birthday today. So after lunch we check that the road is still open and head out to El Alfarero. All around the country the protests are gathering momentum and the road out to the homes has been barricaded at 2 points in between the girls' home and the boys' home, so anyone wanting to get through has to get a bus up to the first road block then walk to the second one to be able to get on another bus in order to go any further.
Shirley is a mother of 2 - Alison and Helen. Alison came off the streets with her into El Alfarero - and Helen is normally looked after by Shirley's grandmother. Today her mother, brother and a friend have come with Helen to visit for Shirley's birthday. This is no small victory since about 3 months ago her mother said she no longer wanted anything to do with Shirley for all that they had been through as a family with Shirley being on the streets. Shirley is really happy about the attention and love she is shown and says that this has been her best birthday ever.
Monday 6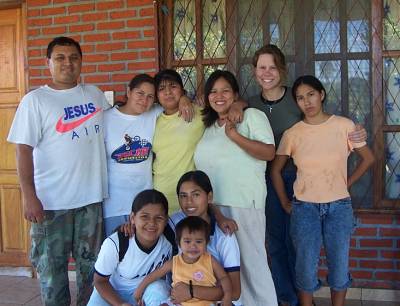 Started the morning off with a quick trip to the hospital with a girl from the Discipleship Training School to have a wound on her knee cleaned and dressed. The wound was caused by a bug that decided that her knee would be a great place to raise it's offspring and so it dug a hole and laid it's eggs in her... one of the less than pleasant aspects of living in a tropical climate.
After that it was off to the girls' home with the family and one of Gaby's friends. Sarah, in her bid to become the perfect wife and mother, joins the girls of the home in their cross-stitching and makes a fish.
On Mondays I only stay till just after lunch because I have a leaders' meeting at 1:30pm in the staff house in town. (You'll be pleased to know that I don't plan to bore you with details of the meeting...)
Tuesday 7
Not much to tell about today. Spend all day in my study/ office at home preparing for different meetings and talks, emails, phone calls, etc.
Claire, who is on a year team with us, and is currently living and working in the girls' home is on her day off and comes round for the evening and to spend the night - seeking a refuge from the pressures of living in a rehab. home in a foreign country with a different culture, language and food. She's doing a great job and our girls love her.
The trouble in La Paz, which is the seat of government in Bolivia, has intensified today with thousands of people marching and demonstrating in the streets. There are running battles with people throwing rocks at the police and the police responding with tear gas canisters. The miners who have marched on the city have brought their dynamite with them and deafening explosions rock the city centre.
This evening the President offers his resignation. That's the 2nd time in about 2 months he has offered to resign. The last time congress rejected his offer - it looks more likely that it will be accepted this time.
Wednesday 8
Congress have decided that they can't meet in La Paz to decide on their response to the resignation offer because of the lack of security. They decide to postpone the session until tomorrow when they will meet in Sucre, the country's official capital...
We would normally have a team meeting this morning out at the boys' home. However, because the of the roadblocks and uncertainty about whether we will all be able to get there we have cancelled the meeting. I meet up with the other leaders in town to develop plans for how the team needs to work as it grows. Sarah dropped off Jasmine at a friends house and took Gaby with her to the market. At some time after 10 am Sarah calls me from a clinic in town. Gaby, who'd had a cold for a few days and then been up in the night with a bad tummy, had suddenly got a really high temperature and gone into convulsions in the middle of the market. I rush to the clinic to meet them to find that Gaby has been given something for the convulsions that has pretty much knocked her out and although she still feels really hot, her temperature has gone down considerably.
This had happened to her once before, just 3 months after we got her. Even still, it was a real scare - especially for Sarah. The doctor suggests keeping Gaby in overnight so that she can stay on a drip, but then agrees to let us take her home giving us a prescription for a course of injections instead. By the evening though Gaby was running around like a mad thing as usual - unless the drip was going to contain a strong sedative it would never have worked!
Thursday 9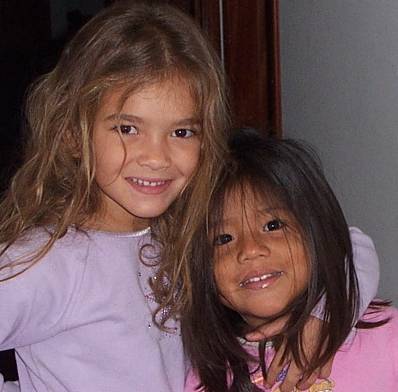 This morning, less than 24 hours after Gaby's convulsions we had our final visit from the social worker to end the 2 years follow-up for her adoptions. Jasmine and Gaby are both on their best and most charming behaviour and the social worker asks if it isn't time we considered adopting another one! She suggests we go for a boy this time....
After a meeting with some of the staff I go off to try and make contact with the Dad of one of the girls in the home... One of our aims is not just to work with the street kids themselves but also to be able to reach out to and involve what family they have, so that with a more solid family base they will have more support in their struggle to start a new life. Our hope is that we'll be able to see more progress with the families through the church plant... unfortunately he's not in, so I leave a message with her sister (who we also know from the streets) in the hope that we can meet up in the future.
In the evening I go out to the newest cinema in Santa Cruz with a friend to watch Star Wars III. The cinema has 10 screens, a food court, video games area, a restaurant, is fully air-conditioned and has these amazingly comfortable seats. It feels like leaving Bolivia for a couple of hours!!
We later find out that the Presidents resignation has been accepted and a new guy is decided on. Hopefully things will calm down now... at least for a while.
Friday 10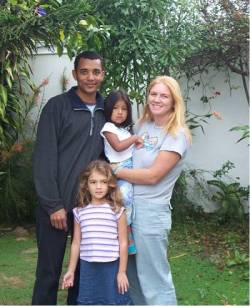 Today my parents arrive. They are coming to visit us for just over 2 weeks. We head off to the airport - paying some bills, and taking Gaby back to the clinic for a checkup (she's fine) on the way. Mum & Dad arrive safely. It's great to have them here - it means a lot having people back home who have personally got to know some of the people we work with here and can somehow share more personally in what we feel for them.
In the afternoon Dad dusts off his medical skills as we visit the medical post. We see the usual cuts & bruises, undernourished babies and pregnant mums... and also a 22 cm intestinal worm in a preserving jar that was one of four to come out of a 16 month old boy last week... uurgh - not nice!!
Saturday 11
Bumped into Martha who used to be in Casa Alfa with us on the way to the supermarket. She's 16 now and still on the streets. She had a baby last year who died after just a few days. Today she was with her boyfriend who regularly hits her. It's lovely to see her, but also very sad because she is so far from where we would like her to be. She's a reminder of why we're here and how much we need God's grace and your prayers.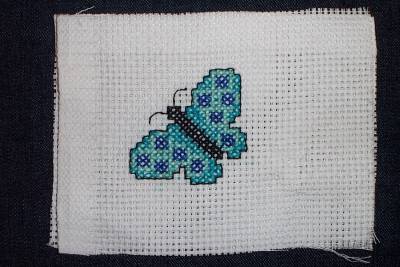 There you have it—a week in the life of the Adjei family. Not exactly a normal week, but then, it hardly ever is...!!
With all our love,
David, Sarah, Jasmine & Gaby xxx