The Adjei Bimonthly(ish)
July 2003
El Alfarero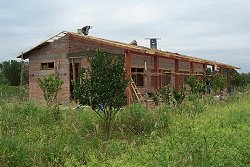 It's been so exciting for us to see the building going ahead on the new girls' home, and as you can see from the photo things have moved on rapidly. The plans for the staff house have now been drawn up and the budget is set at US$17,300 which is more than we had calculated before, partly because we have now included an office, a storeroom and a visitors toilet. At the moment, with the donations that have already come in, we are looking at another US$10,000 (or about £6,000) to be able to finish the building work. We are hoping that if the rest of the money comes in we will be able to finish the building and open the home around about the end of September. The final date will also depend on preparing the staff that we need to live and work alongside Sharon, who will be heading up the work there.
---
If you would like to give any money towards the land and the building of the new home then you can do so by visiting our donations page.

---
Gaby & Naty
Gaby is now on the last few weeks of her DTS (Discipleship Training School) and is currently on outreach in Cochabamba, a city of about 400,000 in what is known as the Valleys of Bolivia (at an altitude of 8000 ft!). The team are working alongside a local pastor reaching out to the civil authorities of the city. We haven't yet heard details of how things have been going there, but Gaby had a good time in the previous weeks when they were in Argentina working with local churches in Buenos Aires and Naty, who has just turned 4 this week, seems to have adapted well through all the changes of the last few months.
Gaby is still looking forward to being part of the team working with the girls at El Alfarero, but is seeking God about when that should happen. She is not yet sure whether now is the right time for her to join us, or whether she needs further preparation - especially in the area of leadership - before she starts working with the girls. Please pray for her as she makes these decisions.
Church
The cell group that meets on Thursdays has been going well and it's great to see people opening up more and understanding more and more of the gospel. Some of the family in whose house we meet are really starting to grow in their new faith and others are asking searching questions as they start to differentiate between what they have known of ritualistic religion and what they are learning about a living relationship with God. Please pray that we'll really be able to teach them how to read and study the Bible and each one develop their own relationship with God from one meeting to the next.
Our Sunday meetings have been going ahead over the last couple of months since our last letter, but with very few people attending which has been a bit disappointing. Often people tell us that they would like to come but the distance to our house puts them off. Because of this we are praying about and looking for a more central place where we can meet on Sundays which would be within walking distance for the street kids and just one bus ride away for those who are in the cell or who have their own rooms. Please pray that we'll find the right place for us to be able to meet together and continue to grow.
Ruth & Corina
Our saddest news is that since our last letter Ruth's condition deteriorated rapidly and she died on the 13th of June after having been in a coma-like state for the previous 4 or 5 days. We were very sad to see her go and we miss her. We often think of things that we must remember to tell her when we next see her, before we realise again that we can't anymore. The good news is that she had peace about dying because she trusted in Jesus and she knew that her future was secure in him. Also a few days before she died a couple came forward who said they wanted to adopt Corina in the case of Ruth's death and so Ruth's desire for Corina to have a family is being fulfilled. The couple now have Corina living with them and the new family are all adjusting well to the changes and enjoying being with each other. Please pray for Andrew and Sarah as they adjust to being parents to Corina and for Corina as she adapts to a new family. Pray also for all the paperwork that needs to be done for the adoption to go ahead.
Family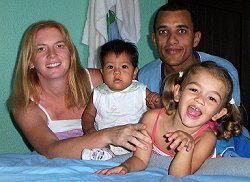 We had our final hearing with the judge for Gaby's adoption on the 30th of May and so she is now officially an Adjei! We gave her the middle names "Nana Rose". "Nana" means "princess" in a Ghanaian language and we added "Rose" so that we now have 2 little flowers in our family! It was Gaby's 1st birthday on the 20th of June - the same day that we signed for her new birth certificate at the civil registry office. The next day we had some friends round for a party to celebrate both her birth and her adoption. It's really great being parents to both our little girls and we really enjoy having them. Gaby's been putting on weight and growing into a beautiful wee girl - albeit with completely out of control hair at the moment - and Jasmine keeps on amazing us with the things that she has learnt that we didn't know she knew! She is definitely bilingual, although when each sentence uses both languages she may be a little too bilingual! This year looks like being one of finally fulfilling long-awaited goals.... a girls' home in the country, adopting a child, and ... getting some rabbits!!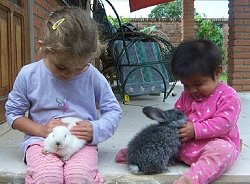 Sarah has just dyed her hair a deep pink colour, which will dispel any fears that those of you who know her well may have had that she's changed too much over the last few years. She spends most of her time juggling the girls, but still comes to the girls' projects when she can is involved with the Church and keeps in touch with ex-Casa Alfa girls who often come round to visit.
We are looking forward to Sarah's sister Catherine coming out to visit us in August... some might say that she wants to meet her new niece, but I know it's really to be here for my 33rd birthday. With all our visitors this year it's been a good year for our chocolate supply too!
Thank you for all your support and prayers,
with our love
David, Sarah, Jasmine & Gaby
xxx

P.S. Having thought I'd finished writing our newsletter we have now had our car stolen from our house. It happened at about 3:30am on Tuesday the 15th. The padlocks on our gates were somehow removed and the car pushed out of the drive without us hearing anything. We had only managed to get this car about 5 months ago after going for 6 months without one. Please pray for us! We also had a bit of a scare with Gaby the other day when she had a high fever which led to a fit and her eyes rolling upwards. Then she went limp for about 20 minutes as we rushed her to the hospital… where she promptly made a good recovery!