The other big change for us - apart from no longer being in charge of the girls' home - is our relationship to YWAM. As you know, Sarah and I have been with YWAM for over 10 years working specifically with Operation Restoration the street kids ministry. You may or may not know that YWAM's focus is on working with existing local churches to train people for missions and to work with the poor and needy (known as Mercy Ministries). This means that while "YWAMers" plant churches as part of their outreach amongst unreached people groups, generally YWAM does not have its own churches and those that are planted are usually done so with the aim of handing them over to either existing denominations or to non-YWAM leaders within the church. So after talking things through with our leaders here we have now been released by YWAM to be able to fully concentrate on establishing the church.

At the same time we have continued to grow in our relationship with the Newfrontiers family of churches to which Sarah's family belongs, and during the leadership conference held in Brighton in July we were officially welcomed into the Newfrontiers family as the Fuente de Vida church plant of Santa Cruz.

But apart from the numbers, Yanyt and Salustio also say that this is the best time they've had in the home since they first moved in over 3 years ago. That said, it hasn't been the best of times for them as a family with problem after problem affecting things outside of the home. Over the last few months both Yanyt and Salustio have had parents in hospital. Salustio's grandmother has also been very ill and in and out of hospital. Without private health insurance the medical bills add up quickly and everyone in the family has to help out.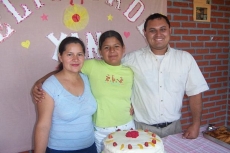 On top of that they have had trouble with tenants in their house in the city (from which they should get about £15 rent a month) - they are on their 4th lot of tenants this year having had people leave the house without paying 2 or 3 months worth of bills. Then apart from that, they have both been unwell at times themselves: Salustio with sciatica and Yanyt with problems with her eyes.
Please pray for them as a family with their daughter Kenia (just turned 15 - the most important birthday in Latin America, especially for a girl.) In particular for their health and their finances after a very draining 6 months for them.
---
Church
Since getting back from England we have seen just over 40 people gathering every Sunday morning (I know, numbers again. But we remember when it used to be about 4 of us on a Sunday morning sometimes - and 3 of 4 were our family!) At the moment on a Sunday we are going through a course on evangelism with the adults, while the young people's group are going through the Alpha course. There are sometimes up to 8 or 10 young people but most of them haven't yet made a commitment so we are hoping that going over the basics will help to bring them to the point of getting serious with God.
On Friday nights a few of the men meet together in the church building and that is proving to be a really good way to form friendships and to talk and pray about issues that affect us all. Key points are always work, family and finances.
Something that might amuse, interest or baffle English speakers is the use of a mixture of Biblical and English names in Bolivia. The Biblical names come from the Catholic influence - Mary and Joseph are very common. While the English names often include random positioning of a silent 'h', e.g. Jhonny. Anyway, in our church I am very proud to say that have a couple who are called "Mary-Jesus" and "Joseph". Apart from that I can also officially confirm that Jesus is Elvis' step dad- it's a strange thing about different cultures that that last comment feels almost irreverent to my British ears even after 13 years of living here....
The vision is to be a church made up of people from all kinds of different backgrounds but which specifically aims to be open and accessible to street kids: providing them with new opportunities and the support and discipleship necessary to make the most of those opportunities, working in conjunction with the YWAM homes to reach out to them and their families. So whilst we personally are no longer officially YWAM workers we will continue to have very close links to Operation Restoration and the street kids. At the moment I am visiting the homes about once a week and still joining in with some of the team meetings. Our aim is also to support some of the kids in the homes through reaching out to their families as a church.
(It was great to be able to baptize 5 people recently!)


---
Family news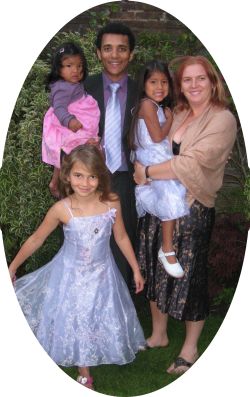 While we were in England Gaby celebrated her 5th birthday and was able to enjoy it with cousins, aunts, uncles and grandparents. Jasmine turned 7 in September and missed out on sharing her birthday with extended family, but was able to spend it with friends and classmates. Lily meanwhile has mastered the art of communication through high-pitched shrieks and can pretty much get anything she wants whenever she wants. Usually she can be placated simply being given 100% of someone's attention for an extended period, or failing that, her Pingu DVD. We are hoping that our eardrums are able to make it through this "phase" more or less intact.
I'm sorry that (yet again) it's been such a long time since we last wrote, so thank you for your patience, support, encouragement and prayers. All that remains now is to wish you a very merry Christmas and a happy New Year.
With all our love
David, Sarah, Jasmine,
Gaby & Lily
xxx